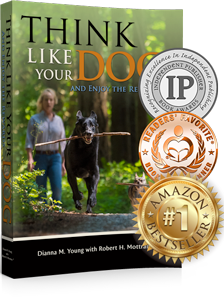 Learn to think like your dog and communicate in a language your dog understands!
Order Today
| | |
| --- | --- |
| Launch | Autumn 2013 |
| Genre | Pets, Dogs, Training |
| ISBN | 139780989200806 |
| Publisher | Island Book Publishing, LLC |
| Media Contact | Contact Us |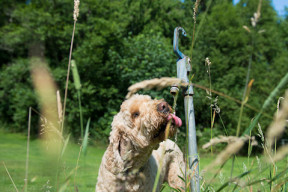 Have you ever wished you could get inside your dog's head and figure out what's going on there? Now you can, because this award-winning book lets you do exactly that. With all the dog training books available today, this number one best seller is a must have in your library!
It's no secret that canines and people are wired to think differently. But with the proper coaching – which this book provides – you can know which way the mental wheels are turning when your dog is dealing with this problem or that encounter. Knowing what is going on in your dog's head, you also will know how to respond to the situation appropriately.
The fact is dogs, by their nature, are rather uncomfortable until they have sorted out where they stand in a social hierarchy, whether it is a society of canines or of canines and people. When all the sorting is finished, you may emerge as the leader. If you do not, your dog will, by default, because it is hard-wired to do so. There's nothing wrong with that, by the way, if you don't mind living in a home where many or most of the decisions are made by a dog. Some people do that. However, if you wish to assume the leader's role in your home, I'll show you how. My job is to put you on the leadership end of the leash, and to keep you there. Excerpt from "Think Like Your Dog"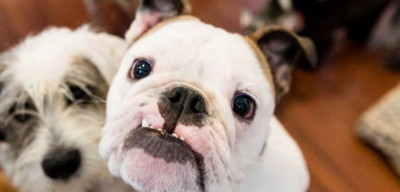 The author is a fulltime professional dog trainer of several decades, specializing in dog obedience training and in behavior modification and who has taught thousands of dogs and their handlers successfully, and she doesn't hold back in this book. She shares the secrets she has acquired through a classic professional dog-trainer education and through dozens of years of boots-on-the-ground experience with canines and handlers of nearly every description.
A lot of toy breeds have the reputation of being ankle-biters. Is that because they are just low-quality breeds? Or is it because of something else? Actually, it's because of something else. Whether you have a four-pound dog or a 150-pound dog, its default setting still is a doggy brain. Large or small, dogs view the world and interpret information in exactly the same way. Sometimes, however, we fail to create enough structure for a toy breed, because we tend to overlook a lot of their bad behavior. The dog in such a scenario sees the other entities in its household as weak. If there aren't strong entities in the house, the dog believes it has no choice but to take that responsibility for itself. Even though it may be only a four-pounder, it becomes — in its own mind — the leader of the pack. Excerpt from "Think Like Your Dog"
They have a fresh perspective on dogs and people and life that is missing from everyone else. What's interesting is they're talking about how to deal with dogs, but this is not just about dogs – it's dating and business and Thanksgiving dinner with the extended family, for heaven's sake. It's life in the guise of training dogs, and it's HUGE.
This will be your go-to book of all dog training books. It's loads of fun to read – full of great stories and incredible insights into the way dogs think. You're going to love this book!
A must-read for any dog owner! Dianna Young's training style is right on the money. Loving your dog is a given, but learning to be its leader will make the bond much stronger and more fulfilling.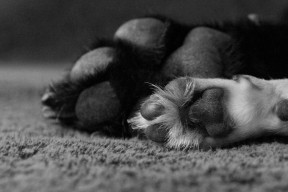 You will learn how your dog so accurately reads your intentions, and how you can read his. You will learn the best way to communicate with your dog, and you will learn that it often doesn't involve words. You will learn the single most-important thing there is to know about human-canine dynamics and, knowing it, you will gain new insights into the relationships between people and their dogs. More importantly, you will gain new wisdom about your own relationship with your personal canine companion and new skills to help you nurture that relationship to a higher level. You will learn how to be your own dog whisperer.
Whether you're an experienced dog owner or someone looking for dog training for dummies, this pet You can take communication with your dog to amazing levels if you know how, and this book shows you how. Learn to think like your dog and to communicate with it in a language your dog understands and uses all the time; body language.
Sometimes, when we first walk through the door with our new pup or with a new older dog, we may be reluctant to make any demands on it at all, concerned perhaps that the new dog might think us too harsh. An owner often is inclined to offer a new dog a several-week honeymoon during which implementation of virtually all rules is postponed as a favor to the dog. The owner hopes this will make the dog feel welcome. Training in rules and boundaries can come later, the owner believes. Unfortunately, what such an owner doesn't realize is that training has begun immediately, even if . . . it isn't the training that was intended. What such training often teaches the dog is that few if any rules exist in this house. This has two effects on the dog, and both are negative. Excerpt from "Think Like Your Dog"